I'm procrastinating homework. So I decided to make a list of things you wouldn't really know about me. Well, you probably won't be surprised, but yeah. I'm bored...give me a break.
--I have rather slender wrists. No big surprise, I'm sure.
--I don't shop at Abercrombie. I'm more of an American Eagle type of person...although their pants don't fit me correctly,
--I have a weak spot for Caramel Ice Storm coffee drinks at the Nordstroms cafe. I crave one everytime I walked into the University Mall.
--Angst is one of my favorite words...although the misspelled form of masturbation (ie masterbation) is my least favorite word.
--I was called on the fact that I have body image issues, and it bugged me because it is true.
--I need a haircut
--I do laundry more than anyone else I know. I don't know how it's physically possible for me to wear so many clothes.
--My favorite Jamba Juice is an Orange Dream Machine. Usually after drinking one of those I want burger king.
--My first name brand pair of shoes I ever owned was a pair of Diesels, I still don't know why it took me 18.5 years for me to accept that I was gay.
--My favorite picture book is the Ghastly Crumb Tinies. It's an alphabet book, I love it! It was my brother's and one of his fag friends took it when he died. Here's an example i found online.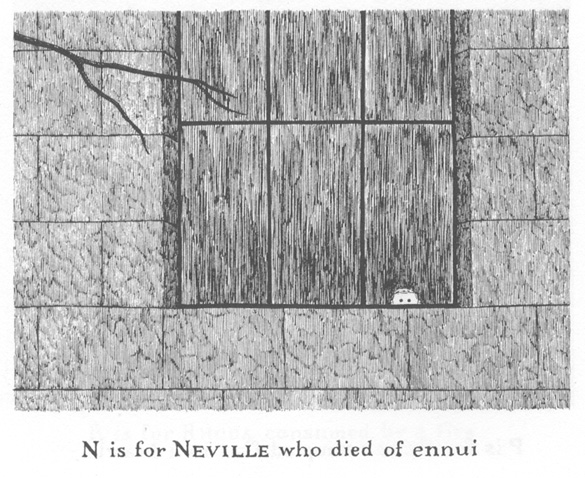 --I wish I had the bargain shopping abilities of my mom.
--I love candy.